Name: Mathew Jonson
Nationality: Canadian
Occupation: Producer, sound artist, DJ, live performer
Recent release: Mathew Jonson is one of the artists contributing remixes to Stephan Bodzin's "Tron - Caligula - Marathon Man" on Marc Romboy's Systematic. Other participants include Hannes Bieger, Raxon, and Fedele.

[Read our Stephan Bodzin interview]
[Read our Hannes Bieger interview]
[Read our Marc Romboy interview]

Tool of Creation: Rhodes Chroma with Enabler
Type of Tool: Analog synthesizer
Designed by: ARP (1979-1980)
Country of origin: America
Became available in: 1982
Mathew Jonson uses the Rhodes Chroma with Enabler extensively on: All of his recent compositions: "Everything I have released in the last year is covered in Chroma sounds. It's kind of like the icing on the cake in many instances but also can be the foundation of a song if using it in more of a traditional sense. The Rhodes preset for example."

If you enjoyed this interview with Mathew Jonson about the Rhodes Chroma with Enabler and would like to explore his work in more depth, visit him on Instagram, Facebook, twitter, and Soundcloud. We also recommend our earlier Mathew Jonson interview, in which he shares his thoughts on a wide range of topics.

You can read conversations with some of his collaborators, including our The Mole interview and our Damian Lazarus interview.



What was your first encounter with the Rhodes Chroma with Enabler?

13 years ago I became aware of the Enabler (the giant sysx controller used in programming the Chroma) that is now built by a company called Redshift Consulting. I called them and asked if it was possible to make me one and after some convincing and also interest in my love of the instrument I was added to their waiting list.

Right before the lockdown in the end of 2019 I got a phone call out of nowhere. "Is this the number of Mathew Jonson?" Yes - lucky for me it still was. "You were added on a waiting list 10 years ago for an Enabler and your number has come up. Do you want it?" Oh yes I do! So we arranged the custom building of a flight case for it and organized shipping.

Problem was I didn't actually have a Chroma yet in the studio. I have been sourcing the parts for one at the famous Five-G synthesizer store in the Harajuku district of Tokyo for many years however it still was not complete. Two weeks after getting that phone call I found a mint condition Chroma on Ebay that was available for pickup in Hannover. I got the notice that the Enabler had also arrived so it really was perfect timing. We rented an Audi A6 and my studio assistant Katsuhiko San and I drove out to pick it up.

So now I am the proud owner of one of the most rare synthesizers in the world with the controller that essentially unlocks all the doors of editing and programming! It is like nothing I have ever experienced!

Just like any other piece of equipment, the Rhodes Chroma w/ Enabler has a rich history. Are you interested in it? And if so, what are some of the key points from this history for you personally?

I love the fact it is a mix of ARP R&D and that Fender Rhodes then took it and released it with the best keyboard design of any analog synthesizer to date.

What, to you, are some of the most interesting recordings made with the Rhodes Chroma w/ Enabler?

Herbie Hancock used it a lot. But especially his album Future Shock.



What interests you about the Rhodes Chroma w/ Enabler in terms of it contributing to your creative ideals?

In terms of synth programming it's incredibly deep.

Using what is called "Patch" which routes the synths oscillators VCAs and filters, it begins to feel like a modular synthesizer. It's within reach to produce sounds in the direction of electro acoustic instruments not typically expected from a subtractive synthesizer.

My favorite preset is the Fender Rhodes sound. I actually use it more now than the actual Rhodes Stage since I can edit my performance afterwards. It's really a dream to play and the quality of build is sublime.

What are some of the stand-out features from your point of view?

The ability to modulate most aspects of the synth from a choice of many sources. It has 4 envelopes (two that repeat), 2 LFO, and the velocity and note position can also affect the sounds. The attack and decay are also able to be controlled which allows programming of many acoustic sounds.

Prior to using it for the first time, how did you acquaint yourself with the Rhodes Chroma w/ Enabler? Will you usually consult a manual before starting to work with a new device – and what was that like for the Rhodes Chroma w/ Enabler?

It took some set up and manual diving for sure. Thanks to the great resource for Chroma owners that is https://www.rhodeschroma.com it was much easier to get into this complex machine.

Tell me a bit about the interface of the Rhodes Chroma w/ Enabler – what does playing it feel like, what do you enjoy about it, compared to some of your other instruments?

It has wooden keys very similar to a Fender Rhodes that stretch all the way back to through the synth. So the sensitivity is unmatchable. It's actually half the actual resolution of most keyboards, however the sensors are so precise you have real use of every increment. It captures your performance in ways that other keyboards just can't succeed.

It also has very high quality sustain pedals.

In regards to the Enabler, it's a huge interface with a clear explanation of what is going. So it becomes intuitive to use after some practice. Randal from Redshift Consulting really did a great job in its development which is now in its second incarnation with many updated features.

Originally he built one only for himself but I guess it quickly turned into a a business. One by one these beautiful controllers transformed what is a very difficult synth to program on its own into the most interactive synths out there.

How would you describe the sonic potential of the Rhodes Chroma w/ Enabler?

Dynamic, bright, warm, and almost ethereal if you get into using it for drones and pads.

In which way does the Rhodes Chroma w/ Enabler influence musical results and what kind of compositions does it encourage / foster?

It's great for lead sounds and pads but also does some pretty cool organs and bells.

It's a players' synth so it's really hands on. If you have a basic understanding of how to play keys it's a lot of fun.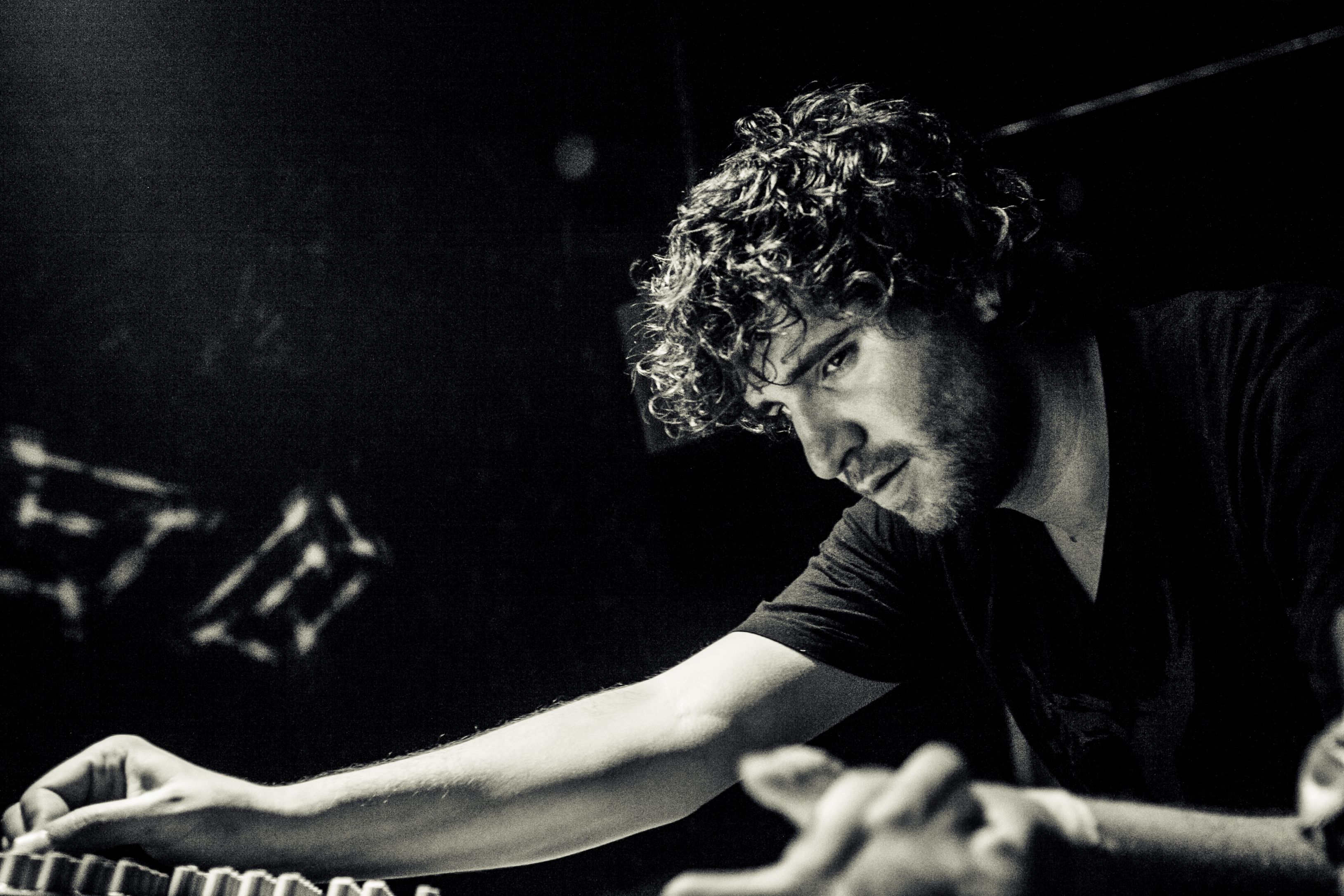 More generally, how do you see the relationship between your instruments and the music you make?

They all dictate a certain experience and the music that results is heavily due to the workflow of each one.

In the light of picking your tools, how would you describe your views on topics like originality and innovation versus perfection and timelessness in music? Are you interested in a "music of the future" or "continuing a tradition"?

I tend to shy away from things that might be considered trendy production techniques so I would not necessarily consider my music innovative.

However it certainly is unique perhaps due to the fact I don't limit myself in producing a specific genre or even consider any judgment of what it is supposed to be or become. My productions techniques are based more on what I feel is needed to bring each individual song to life as an individual entity.

Some see instruments and equipment as far less important than actual creativity, others feel they go hand in hand. What's your take on that?

Methodically speaking I have numerous practices that I will use to trigger creativity and ideas - most of which don't involve playing musical instruments.

I read or look at art or even sleep when I get to the studio as a way of setting my mind in motion. Once I hear the music that somehow just comes to me while distracting myself I'll choose the tools that might best suit each part of that composition.

How does the Rhodes Chroma w/ Enabler interact with some of the other tools in your studio?

It's the master midi controller. It's particularly good with controlling things like the Roland Integra-7. I tent to always bring down the velocity when I play digital sound modules as I prefer the sounds at lower velocities.

The chroma is a bit limited in its velocity range. It outputs from the MIDI of the cc+ card so this is more of a positive thing rather than a hinderance.

One thing that is a bit of a drawback, though, is due to the Enabler being a sysx controller. You are not able to merge sequencer data and sysx messages very well which leads to crashing the processor. Therefore you can not adjust the synth while it's being sequenced. There is so much going on with modulation and velocity anyways though it doesn't seem to bother me.

Are there other artists working with the Rhodes Chroma w/ Enabler whose work you find inspiring? What do you appreciate about their take on it?

One of my favorite tracks from Sun People has pads that I'm sure must be the Chroma. I wonder if I'm right.

To be honest though I don't know anyone personally with the Chroma other than Herbie Hancock so it's hard to say. I'm very lucky to have it with the Enabler thanks to the generosity of Randal at Redshift Consulting. I'm guessing there are only a few hundred of these in the world