Artists featured: Jack White, SONS, Wet Leg
Nationalities: American (Jack White), Belgian (SONS), British (Wet Leg)
Current releases: Fear of the Dawn (Jack White), Sweet Boy (SONS), Wet Leg (Wet Leg)

If you enjoyed this article and would like to check out the artists a little more, visit their respective homepages: Jack White; SONS; Wet Leg

Rock n Roll is dead. Well, at least it is to me tonight. Jack White is playing at the Verti Music Hall, and I was supposed to be on the guest list, but for whatever reason I'm not. So I'm looking on as the queue is slowly, but efficiently snaking through the warm Summer air and into the building as the lucky ones already inside look down on them with a smirk, cool beer glass in hand, anticipation in their eyes. I write an email to the promoter to check back about the situation and spin a few laps around the fountain in the middle of the square which connects the hall to the even larger Mercedes Benz Arena and all of the restaurants, cafes and bars which give this place the air of an artificial music village within walking distance of the Spree. With each completed cycle, I check my inbox, but it is becoming clearer by the second that I'm not getting in.

Which is a shame, because from the very first moment I heard "Taking Me Back", the first single off Fear of the Dawn, White's new album, I knew this album had "it". "It" being whatever element in a song makes you forget about everything else, put aside whatever it is you were just doing, and make you believe in the power of rock again.



That sensation only increased with the arrival of even more outtakes and reached its peak with "What's the trick?", a perfect four minute explosion that felt both like a rejection of everything and a commitment to a better future.

Now, first things first: I already know that the music on Fear of the Dawn is probably not quite as good as it sounds to me right now. And I do believe there may be other artists whose more recent work may encapsulate the rock spirit better than White – Ty Segall being a prime candidate. And yet, that's the thing about a great rock song: When it grabs you, it won't let go, distorting your perspective and pulling you in.

Is Jack White the saviour of Rock n Roll, someone asked on the same forum thread that Radiohead-vs-White-Stripes comment was taken from. Of course, rock doesn't need to be saved and White is hardly its saviour. But, based on what is now an almost quarter-century long career at or near the top of the game, it is easy to see why some would jump to that conclusion.

And, standing here and waiting for something to happen, that's certainly what it feels like for me.

~

"What's the trick?" is an interesting turnaround in terms of my relationship with Jack White's music and perhaps with rock in general. "From '99 through '07 there was a nice running tension between the acclaim of Radiohead's approach and the acclaim of the White Stripe's approach to rock and roll," someone astutely said on the Steve Hoffman Forum which, looking back, makes for a pretty good summary of that period, and throughout that time frame, I had found myself firmly within the Radiohead camp.

Coming from electronic music, rock meant something different to me than it did to those who had grown up, as many of my friends had, with The Ramones, The Pogues, The Stones, Uncle Tupalo or German bands like Ton, Steine, Scherben. My favourite rock album at the time – probably until today – was Trans Am's The Surveillance, a short, dystopian release which sounded like it was recorded in a tiny garage and with nothing but fuzzy guitars, monumental drums, garish synths and a few abstracted noises straight out of an experimental sound art lab. From this post-post-post-take on rock to the historically informed output of White seemed like a pretty long way to go.



In retrospect, this is curious in a way. Because what I had appreciated about The Surveillance and Trans Am, who, between 1995 and 2000 were one of the most exciting bands bar none and released a near-perfect run of five genre-defining albums, was precisely what so many loved about The White Stripes: This idea of going back to go forward, of taking something away in order to uncover what had been lost underneath, of seeing how far you could go with a limited palette.

In a way, Trans Am's output started to get patchy the moment they expanded their sound, adding more and more layers and plugging the holes in the music's textures they had left open to such great effect before. The White Stripes, meanwhile, stuck to their formula until their final album Icky Thump. With the exception of Get Behind Me Satan, which featured mallet instruments on a few occasions, it gives their discography a sharpness very few acts of that time can claim – a polar opposite to Radiohead for sure.

In terms of its sheer sonic diversity, Fear of the Dawn could hardly be more different. The sonic and compositional experimentation going on here, which already started with Boarding House Reach, is not an accessory. It is an integral part of why the record works: You have to, as it were, blast the past to make this music feel relevant again, remove the waste to see the bigger picture. It walks this tightrope between familiar tropes and the rush of blood to the head which so many bands promise but so very few deliver. The fact that some of his biggest fans feel White's gone overboard on this release as well as its predecessor actually prove he's probably on the right track.

~

As I keep walking and waiting, I am thinking back to a conversation with Christoph Heemann several years ago. Heemann, one half of long defunct mystical ambient drone duo Mirror, was playing with his then-new and still-active mystical ambient drone duo In Camera in Münster.

After the show, which was as far removed of this Jack White gig in Berlin as can possibly be imagined, we were talking, for whatever reason I can no longer remember, about the strange spectacle of middle aged men and women dressing up in torn t-shirts, and ragged jeans to celebrate their defiance of society and its norms before returning to their 9-5 jobs in insurance, and banking - or journalism. The music of In Camera was mainly composed of long held tones and softly struck dulcimer strings and after the performance, Christoph gifted me a copy of William Basinski's breathtaking A Red Score in Tile, a two-vinyl-sides spanning epic entirely composed of a short, beguiling synthesizer loop repeated on end.



At this point, it was abundantly clear that I wanted nothing to do with that world of leather and jeans anymore.

[Read our William Basinski interview]

And yet, here I am, many years later, and the fever of becoming part of said spectacle, grabbed me again. I feel exactly like the line in "What's the trick?": "Stomping on a box that I thought was empty / But there was something sharp inside," and although I can't say for sure what he's on about there – or anywhere else in that song for that matter – it feels like a perfect metaphor for the power of rock to keep reinventing itself and surprising you with its youthful energy just when you thought it had finally disappeared for good.

Of course, reinvention is a relative term in this case. There is nothing genuinely new or revolutionary on or about Fear of the Dawn – a few crunches of electronic distortion here, a few odd nods to hip hop there, sound effects panning left to right and front to back in the stereo image and arrangements that no longer fit the song format bill. But for those who valued his work for its impressive historical knowledge, analogue aesthetics and tube amp sensuality, it must have felt like the artist had lost the plot.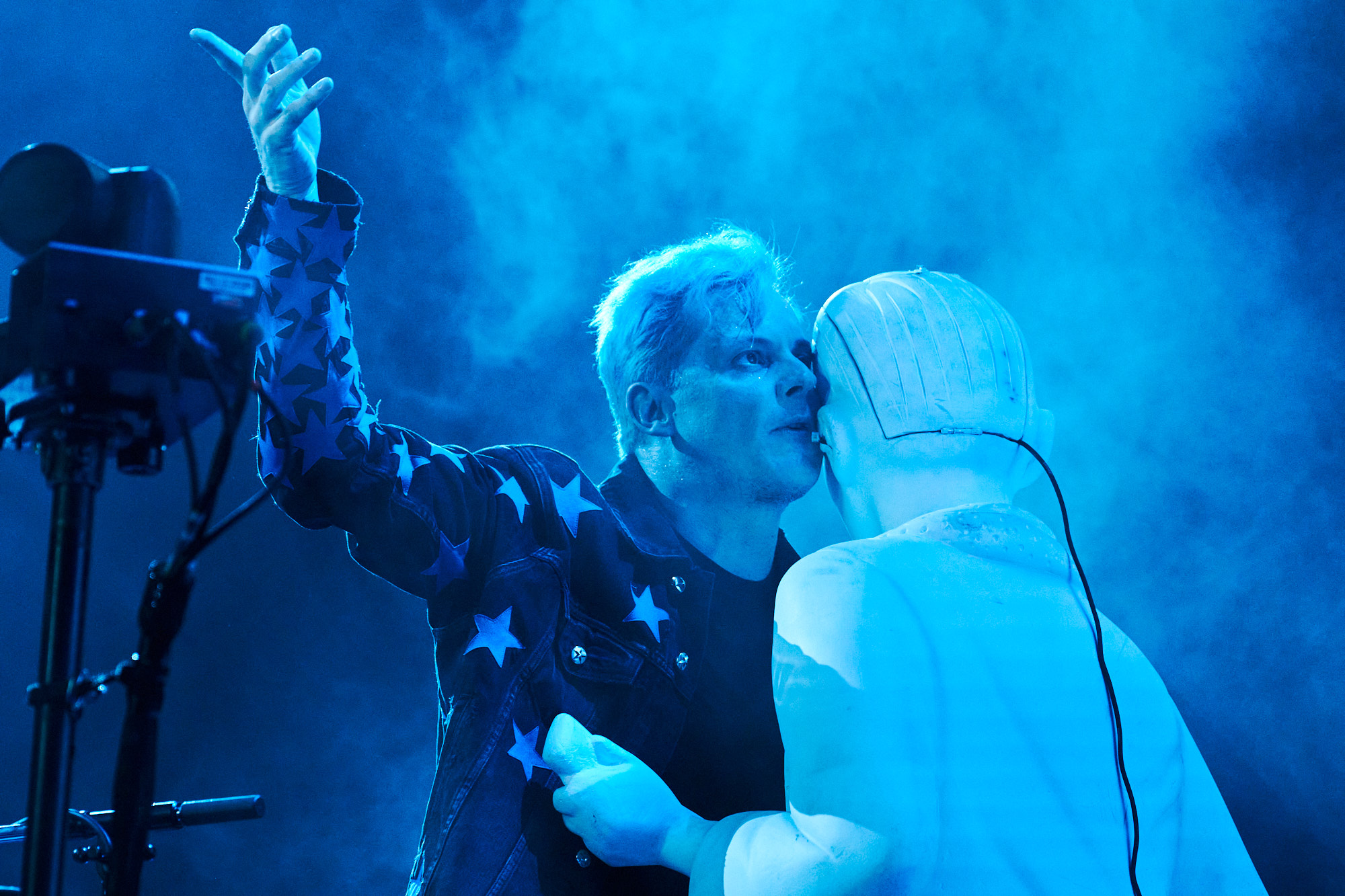 To understand where they're coming from, take a look at a pretty great and pleasantly cheap compilation album The Roots of the White Stripes which features tracks from Johnny Cash, Leadbelly, Son Volt, John Lee Hooker, Blind Willie McTell and a songwriter and civil rights activist named Josh White, who is no family of Jack's but whose "St Jame's Infirmary" would probably not feel out of place on the latter's already announced upcoming second album of 2022, the more folk-oriented and acoustic Entering Heaven Alive.

Almost without fail, the songs on The Roots of the White Stripes are blues. It is, on the one hand, silly in the sense that these are not just the roots of The White Stripes, but the roots of pretty much all of rock music, pop music, rnb and soul (which, in turn, are the roots of most of whatever remains). But when it comes to concrete inspirations, the album may not be too far off.

After all, even those who, like me for many years, could not relate to his music, usually felt a sense of respect for his work at the very least. Most of the 90s and the early 00s were oriented firmly towards the future. White did add a sense of welcome grounding. His music did not transform his influences - it actively celebrated them. It did not look back in anger or shame – it just saw beauty. Now, that gaze had taken a turn and the purity of his sound had surrendered to contemporary production techniques. The most recent recordings were even done digitally.

"As an artist it is your job not to take the easy way out," White had once told The Guardian. With regards to his solo work from the past few years, some thought the hard way did not seem like a great choice, either.

~

Of course, for someone to be the "saviour" of anything, she would have to lead a movement. And I honestly don't think that is in any way what Jack White is currently doing. Far from it, in fact. With appearances now on all the major talk shows in support of the album, he seems more insulated than ever, one of those star personalities who have become almost a caricature of themselves in the public eye, regardless of how great or fresh their current creative material may still be.

I had to think of this when watching coverage of Glastonbury 2022 the past few days, mainly in anticipation of White's gig in Berlin – the chances of me attending are becoming less probable by the minute – but also to see how his current sound compares to that of some of the other rock bands around. A few things are becoming clear straight away. First of all, what is and what isn't great rock has remained as elusive as ever. I really like Fontaines D.C. but would hardly consider them a great rock band, for example. Idles, on the other hand, have all the making and attitude of a rock group pur sang, yet they leave me strangely cold.

If judged purely on the merrits of its ability to move a crowd, there can be no doubt that the race for the crown is not even a competition right now. Watch Wet Leg playing "Chaise Longue" and you'll see why this is the very definition of what great rock is at this point in time: The lyrics are provocative but fun, they're clever, but relatable – rock dies under the influence of irony – and the music is uplifting in a way that great house music can be, flirting with the dancefloor as the ecstatic lead motive transforms half the crowd into a moshpit. Even White's performance of "Seven Nation Army" at the same festival, a song which is now part of each soccer match warm-up routine, didn't even come close to eliciting a similarly euphoric response.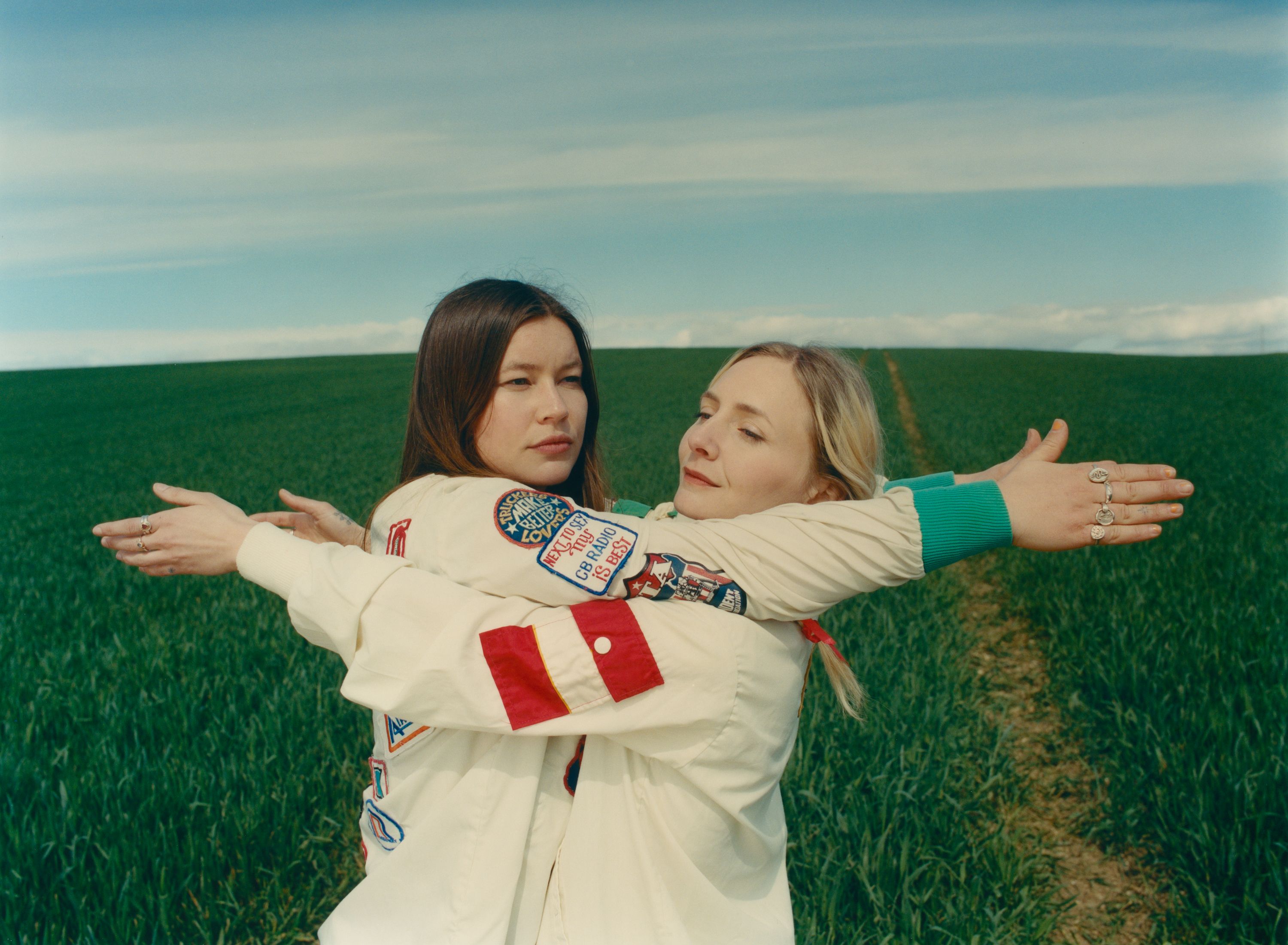 What I particularly like about Wet Leg is that their songwriting is not actually based on the blues tradition at all, but more on power pop and indie rock, genres which care very little for purity and which seemed to have died a quiet death when the 80s turned to the 90s and gave way to a new wave of rock music which sought inspiration by flirting with current developments in techno, electronica, edm and sound design.

In this, they are certainly not alone. In fact, Wet Leg are leaders of an entire pack of bands operating in a similar vein: Dream Wife (a bit more punky), Goat Girl (a bit more artsy), Pip Blom (a bit more fragile), Porridge Radio (a bit more underground), Viagra Boys (a bit more glamorous), Horsegirl (a bit more raw) and Courtney Barnett (a bit more stripped down) – the list goes on.

~

The thing is: Whatever your influences and preferences, rock, just like punk, is about going out there and "doing it". About questioning everything, but never questioning the need for a response. You can't not do it just because trap is more popular or "the kids" are into video games these days. As Jack White asks: "If I die tomorrow / What did I do today?"

Belgian post punk quartet SONS, the opening act on the bill tonight, who, while I'm still waiting outside the Verti Music Hall, are probably by now about to start their set, are a great example of this attitude. Their sound is darker and more urgent than most of their aforementioned peers. But when it comes to their motivations, they certainly seem to fit the same bill.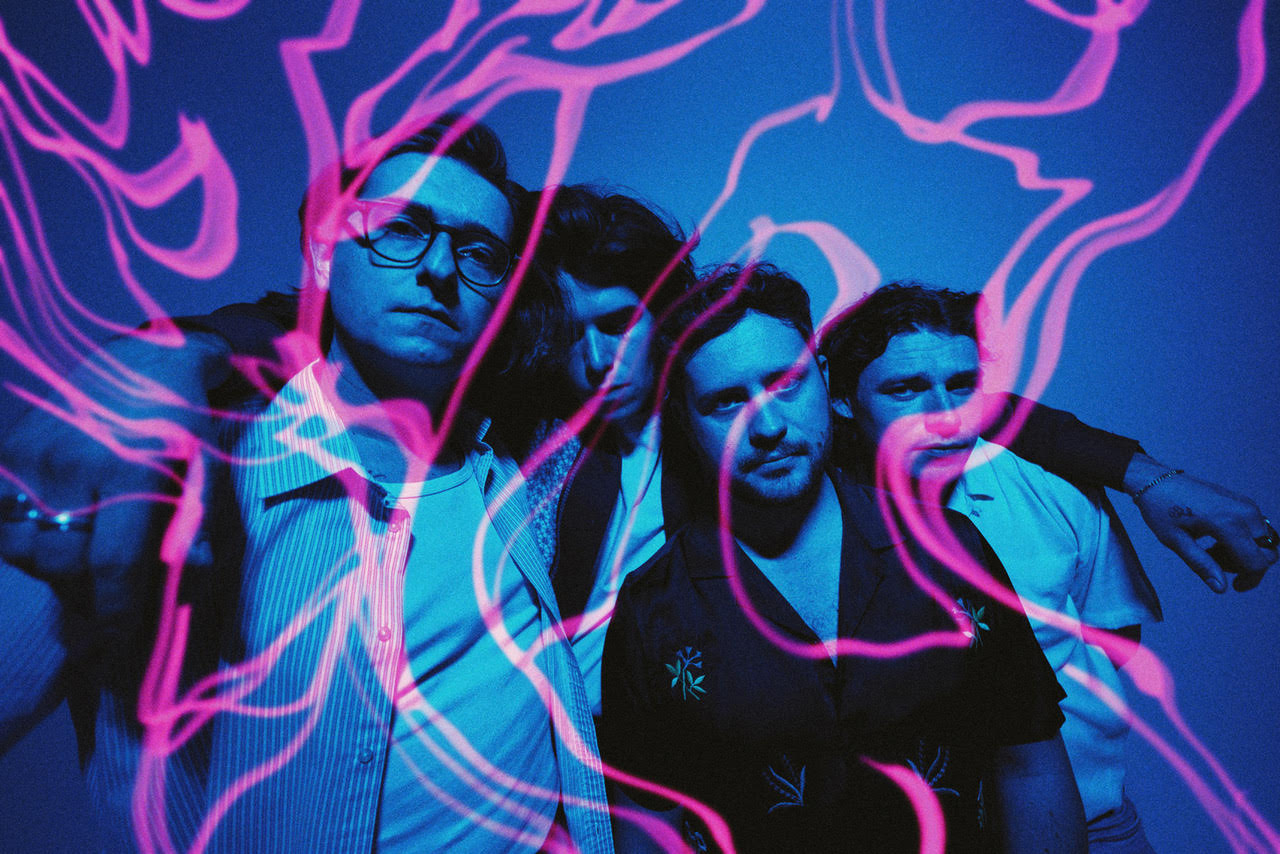 "Sweet Boy", one of their recent singles, is by far the most arousing song they've written so far and, at the same time, one of the most arousing songs of the entire year. The riff it is based on is basic and primal and its effect is multiplied by the fact that bass and drums are locking into it as well, the whole song a single idea swelling and condensing, a sheet of razorsharp hail hitting you straight in the face.

It is a piece that would have fit perfectly on Fear of the Dawn, if only for the fact that SONS are a band that have understood that the most fundamental rhythm of rock is neither "that swing" nor a disco groove, neither a clevery engineered drum loop nor a technically amazing blast beat. It is a tribal one, played mainly on toms and snares, which is why Killing Joke's Big Paul Ferguson was such an incredible rock drummer and why SONS' percussionist Thomas Pultyn may well be the most important musician in an ensemble so tight that it shouldn't allow for one musician to stand out from the fold.

Watch a clip of the group's stand-out live performance at AB - Ancienne Belgique from 2019 which opens with a ferocious delivery of "Family Dinner", which is essentially a wash of guitar noise on top of a relentless drum pattern. This is music so vital you could turn off the strobes, turn on the light and unplug the amps - and it would still work.



I have sometimes thought that there is just one rock song, you just need to play it as well as you possibly can – this band and their already impressive song catalogue seem to to confirm that suspicion.

~

As I put on my headphones to pass the time by listening to Fear of the Dawn again, I realise this is exactly what makes the current iteration of the Jack White band so powerful, too. White has clearly built the axis of the group around him and drummer Daru Jones, who sounds nothing like Meg White, but rather injects the songs with an equal amount of cool and physicality and who shares with White a deep interest in gospel music. It is telling that, on the occasion of the band's surprise performance at Glastonbury, he interacts most with Jones rather than any of the other musicians, keeping regular eye contact almost throughout the entire set. Yes, Dominic Davis is a wonderfully funky and focused bassist and Quincy McCrary a keyboardist with a magic touch. And yet, they are relegated to the sidelines.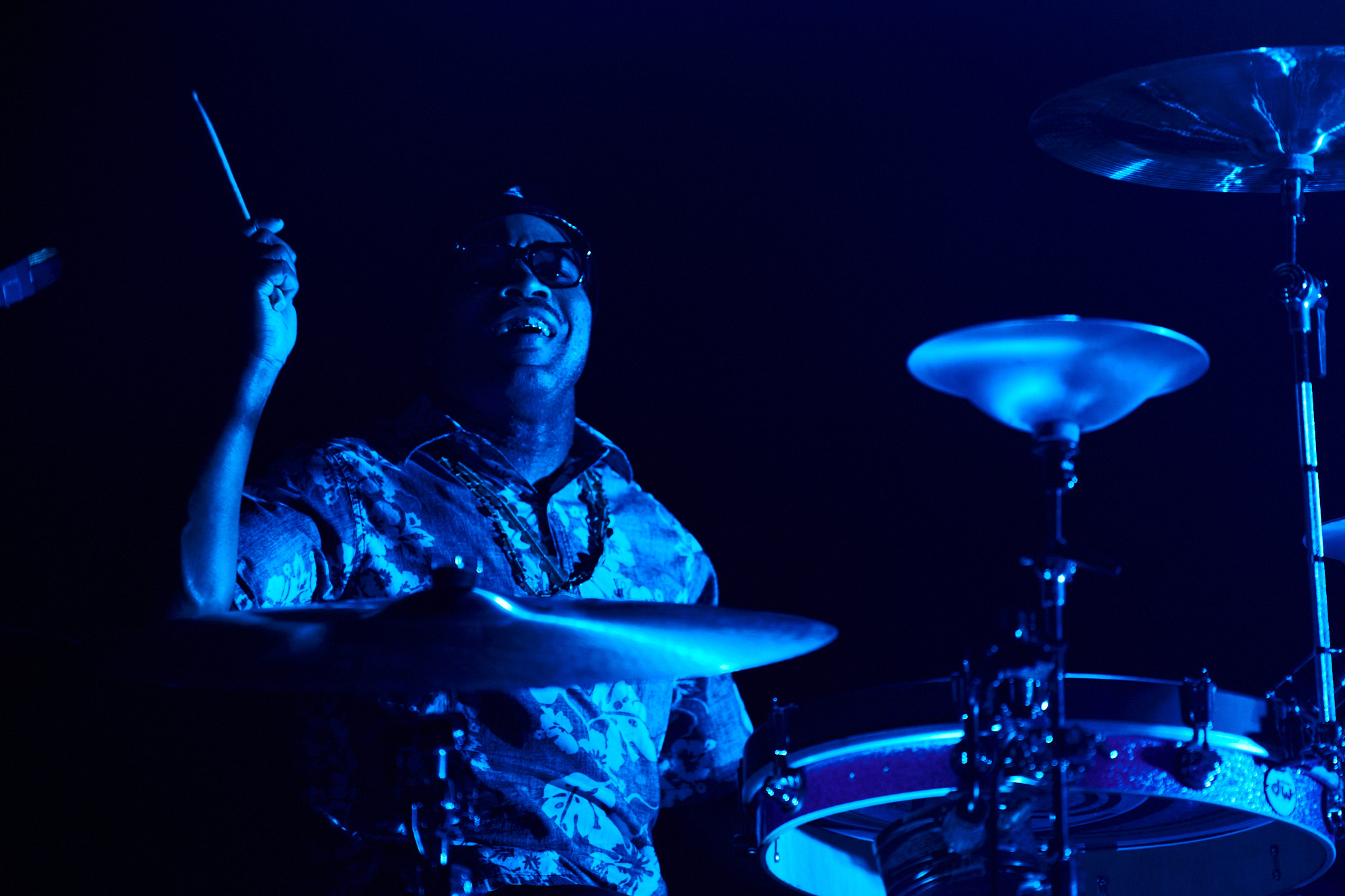 Curiously, to me, "Ball and Biscuit" from that set is probably the standout piece. It is easily one of the most retro tracks the band have ever written and this live version sounds even more nostalgic, with White revelling in the blues harmonies and McCrary launching a fully fledged Hammond attack. And it is suitably the brutal guitar solo that provides the real lift-off, although White is neither a Santana not a Clapton, which is why his solo ends after one rather than fifteen minutes. It is the way that he plays his Telecaster that roots this in 2022 rather than 1968.

And yet, it wouldn't have sounded out of place at any Cream live show. To prepare for the show and taking a long walk to get to the event, I took out Those were the Days, the both beautifully curated and presented 4 CD box set which collects pretty much all of Cream's studio albums and officially sanctioned concert recordings to spin a few cuts off the band's glorious Disraeli Gears and Wheels of Fire recordings. How much has really changed since then? How much have things remained the same?

~

Some claim that great rock is about rebellion, but so, at its heart, are most major music genres. Every artist, at some point, was rebelling against something. Bach was rebelling against his somewhat mundane job by writing huge orchestral works that would never be performed during his lifetime. Mahler was rebelling against the limits of traditional tonality, Schoenberg was rebelling against tonality altogether. Stravinsky was rebelling against regular metre. The blues pioneers captured on that surprisingly great The Roots of The White Stripes compilation were rebelling against their social position. The Rolling Stones and The Beatles were rebelling against suppressed sexuality and narrow thinking. Jazz was rebelling against inequality and injustice. Techno, finally, was rebelling against the constant need to rebel against everything.

But is Jack White really a rebel? Perhaps in the early days of his career, it may have been somewhat contrarian to found a band with nothing but guitar and drums and the early White Stripes releases certainly sounded remarkably fresh for it. Today, when I saw him sit down for an interview with Zane Low of Apple Music at the headquarters and flagship store of Third Man Records, a few metres away from the Voice-o-Graph in which Neil Young recorded A Letter Home, he certainly looked less than a rebel without a cause and far more like someone who had finally found what he wanted. There is nothing wrong with that. It just doesn't make his position very different from that of say, Wolfgang Voigt at kompakt, with the slight difference that Voigt produces conceptual techno and dreamy, epic ambient.

Sure, rock is about freedom and a way of life. And yet, it seems unlikely that the gig at the Verti Music Hall, which has by now filled up completely and left me standing pretty much alone out here, is going to change the lives of all too many of those attending. One reason is that, in many respects, part of its mission has already been fulfilled. Many of the ideals of the genre's pioneers have become reality – in fact, the worldwide conservative backlash can be interpreted as an effort to undo these achievements.

~

As I finally head home, I realise this is not the only reason, however. It is because very few lives ever get turned around completely at these events. Most of the audience at Woodstock, too, I bet, went home to their 9-5 jobs in insurance, and banking - or journalism. They did not found a band, get high or cut their ties with the past. A few did, some of them to great effect. But even at its peak, rock was always what most form of music have traditionally been to most: A form of entertainment.

This, perhaps, is the point: On Fear of the Dawn and in his live performances, Jack White is playing for those handful of listeners to whom it is more than that. He is playing like he truly believes he could make a change, which is exactly what great rock is about, even though it rarely does. It instills this feeling inside that things could change for you, too, and it provides you with the energy to get up off your lazy chair and head out into the world and just "do it". It's what drives younger bands to record and play music which seems to go against the times, that makes them play small venues until their fingers bleed and their ears ring, that makes them waste their time and money on what others still consider a hobby.

Rock is a jolt of energy that makes you believe in who you are and what you represent and that makes you feel good about life even though you've just missed a gig you really wanted to see just because someone forgot to put your name on the guest list. "You want fresh air? You won't find it this way" is another great line from "What's the Trick?" and it seems to suggest that the one and only place you WILL find it is "your way."

Mine is leading me to my bed right now, but I know that before I get there and dream off, I will blast Fear of the Dawn one more time, and probably one more time still, and it will will feel pretty damn great.